Flight Simulation
Background
I started my adventure with Microsoft Flight Simulator back in 1996/7 with Flightsim 95, the first Windows version. Since then I have upgraded through the versions and I am now starting to play with FSX. I still do most of my flying on FS9/FS2004:ACOF as I have most of my scenery and AI traffic set up on there, and not much is available for FSX yet.
Journalism
In 2004 I started writing articles for SA Virtual Pilot, a private flightsim webzine. Since then I have written about 35 articles and reviews (and counting), met interesting people, gone interesting places and seen interesting planes.

Repaints
So far I have repainted Tim Conrad's Aero Vodochody in the colours of the Sasol Tigers aerobatic team (ZU-CYI). The team were very helpful in giving me access to the aircraft and giving me flying tips for the review I was doing. The repaint and Tim's base files are available at Avsim and Flightsim.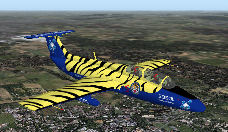 Projects
I am currently repainting the Phoebus Apollo ATL Carvair based at Rand Airport (9J-PAA), and the Aviation Dimension Aero Vodochody L-39 based at Lanseria (ZU-TEE) will be next.
My other big project on the go at the moment is a complete set of African AI traffic, using repaints and flightplans posted on the major flightsim sites. When finished, it will cover commercial South African airlines, GA aircraft, regional airlines operating in Africa, and international airlines flying into Africa. I am also compiling governmental aircraft and flightplans, and I might add military flights at a later date.